Keep construction teams moving to deliver faster
30%
reduction in delivery
schedule
2x
faster field productivity outcomes and OSP deployment
25%
cost and budget efficiencies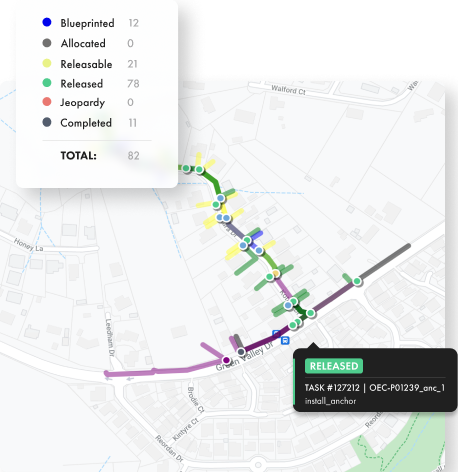 Significantly mitigate project risk
Streamline invoice and payment processes
With visibility of the project schedule and associated BOQ/BOM overlaid on the network design, time, cost, materials, and labor implications are more transparent and can be dynamically adjusted based on in-field performance and historical data.
Leverage as-built data to track and manage materials and suppliers
Construction teams are only allocated ready-to-go tasks, providing visibility into planned tasks and certainty that they will not run out of work to resource up accordingly. Manage progress at the crew and team level, by task type, and across geographic regions.
Accurate view of project status to predict invoicing
Digital as-built and redline data are captured in real-time versus requiring passthrough redlined documents from the field for manual updates into engineering systems.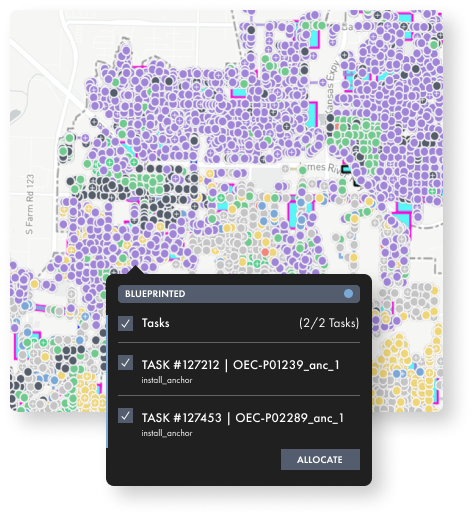 All stakeholders have access to a single, geospatial source construction truth
From project kick-off, downstream requirements are mapped to as-built data collection.

Field crews capture mandatory data requirements, enabling consistent and accurate data to be shared with project stakeholders like finance and operations progressively and in real-time.
Our customers say it best
You have visibility of one source of geospatial data – that's huge. Render has created a connection between design, field engineering, the procurement of materials, and final operations handover. That streamlining is something that has never been done before.
Gary Ervin
Co-Founder, Ervin Cable

We no longer need to devote resources to preparing status updates. Every stakeholder can access a centralized data source.
Real-time geospatial progress views enable smart, data-driven decisions on the deployment which really builds confidence in the project.
Jeremiah Sloan
COO, Craighead Electric Cooperative


Resources to manage rollouts better