30%
reduction in delivery schedule
5x
reduced time-to-revenue
2x
improved field to office productivity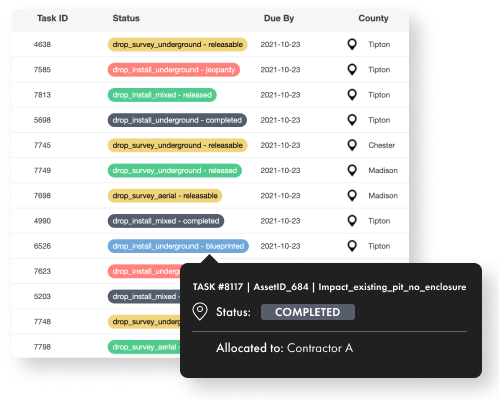 Unified data equals smarter build decisions
Unequaled visibility and control
Digital and geospatial data capture enables complete and real-time progress visibility for all stakeholders, with the flexibility to adjust to changing priorities.
Seamless integration with existing systems
As-built and redline data is delivered in real-time directly from the field for downstream system utilization, maintaining all changes from design to handover.
Actionable construction insights
Simple and configurable insights and dashboards for all project stakeholders, in their required format.
Explore Render for your
project
We no longer need to devote resources to preparing status updates, every stakeholder can access a centralized data source. Real-time geospatial progress views enable smart, data-driven decisions on the deployment which really builds confidence in the project.
Jeremiah Sloan
COO, Craighead Electric Cooperative
Render's software has saved my company a lot of money by eliminating the number of people needed to manage a project this size from 4 people to 1.
Coty Cox
Operations Manager, Craighead Electric Cooperative
Resources to deploy better